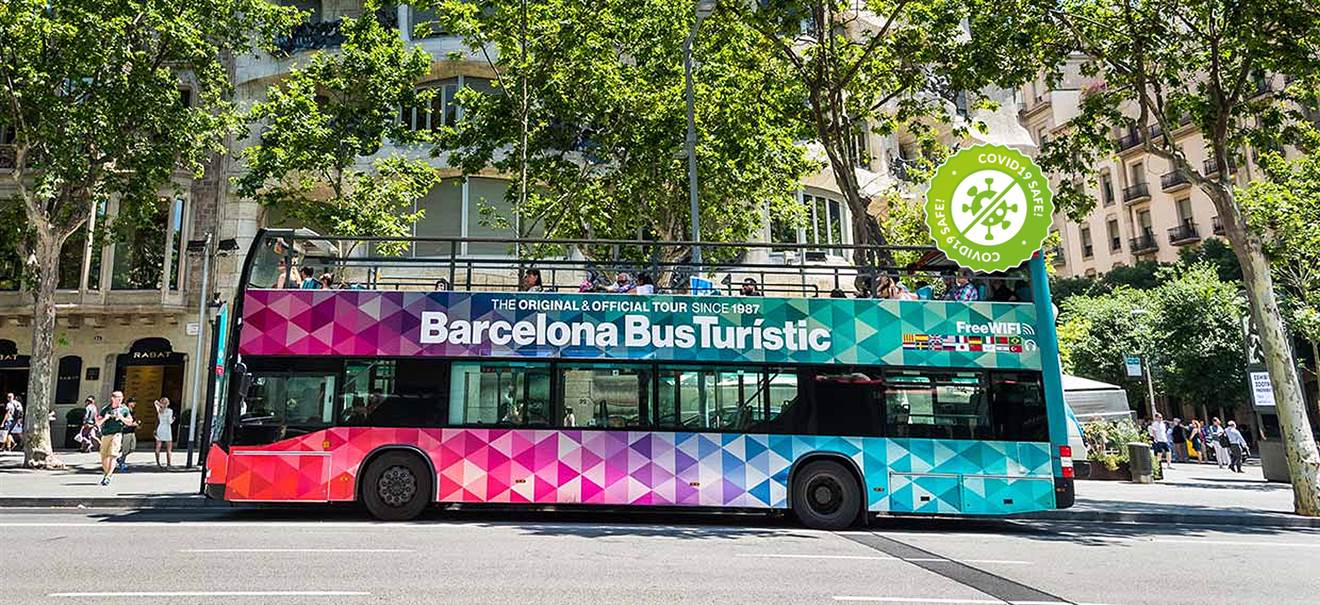 Barcelona Hop-On Hop-Off Bus
To product

100% MOBILE
Show tickets on your phone

Corona Safe
100% mobile! Don´t have to print your tickets! Go whenever you like. Your ticket will be activated from the moment it gets scanned
The most comfortable way to explore all the wonderful highlights that Barcelona has to offer!
Hop on the Barcelona Bus
Hop on the Barcelona Bus and discover all the highlights that make this Mediterranean city so special. From the modernist buildings and the great cuisine to the Olympic city and the Mediterranean sea: it's all Barcelona! The open-top double-decker bus travels all around the city, stopping at the most famous attractions including the Sagrada Familia and the Arc du Triomf. There is an audio guide in 16 languages and individual headphones. All you have to do is hop on, listen and enjoy! Get on and off as many times as you want between the three tour routes at 45 different locations. It can be very busy at the ticket offices, so buy your ticket online now and hop on at the location of your choice!
COVID-19 SAFETY MEASURES  
Due to the pandemic situation and to protect you and those around you, visits will allowed with the following sanitary norms and regulations: 
Wearing a face mask can be required 
Reduced capacity to ensure a safe visit 
Distance between visitors is obligatory
Guests may be subject to a temperature check
Visit time may be limited
 WHY IS THIS PRODUCT CORONA SAFE? 
Hand sanitiser available on all vehicles/vessels 
Encouragement of mask wearing if not compulsory 
Reduced capacity and distancing measures on the vehicles/vessels
Schedule details:
• The bus runs every day of the year
• First departures: between 09:00 and 09:30 from any stop
• Last departures: 19:00 in winter and 20:00 in summer. See timetables posted at the stops
• Frequency: between 5 and 25 minutes, depending on the season.
Please see the route of the bus here.
If you have chosen the Hop On Hop Off 2 days,the ticket is valid 2 consecutive days.
Hop-On-Hop-Off Bus doesn't operate on 25th of December and 1st of January.
Green Line operates from 3 of April to 1 of November
Ticket is valid all year! Buy your ticket online and skip the line!
Buy your ticket
on Ticketbar
Get your ticket
via e-mail
Show your ticket
on your phone
7 reviews
Today's quote
Great City, Great Tour! Easy way to see the whole city in 2 days...
Reviews of Barcelona Hop-On Hop-Off Bus
7 reviews
5
I am a mom of 2 little very active kids. The bus was such a great way to see the city and not worry about getting arround with boys running all over the place. They enjoyed the open rooftop ride very much indeed.
5
Great tour, great price. The hop on hop off bus is the best way to see such a great city.
5
Barcelonaaaaaa - Love it!
5
So much fun for the kids, easy to use, easy to find the stops. I would recommend! Thanks, Annaliese
4
We were only in Barcelona for 3 days so this was fantastic as we were still able to explore Barcelona - just very quickly. It was also really nice being able to get on and off wherever we wanted. Good purchase! Adam
5
Did this with my 2 kids. They loved it! It was such a great way to see Barcelona and being able to get on and off with no hassle was perfect! Thanks - Alix