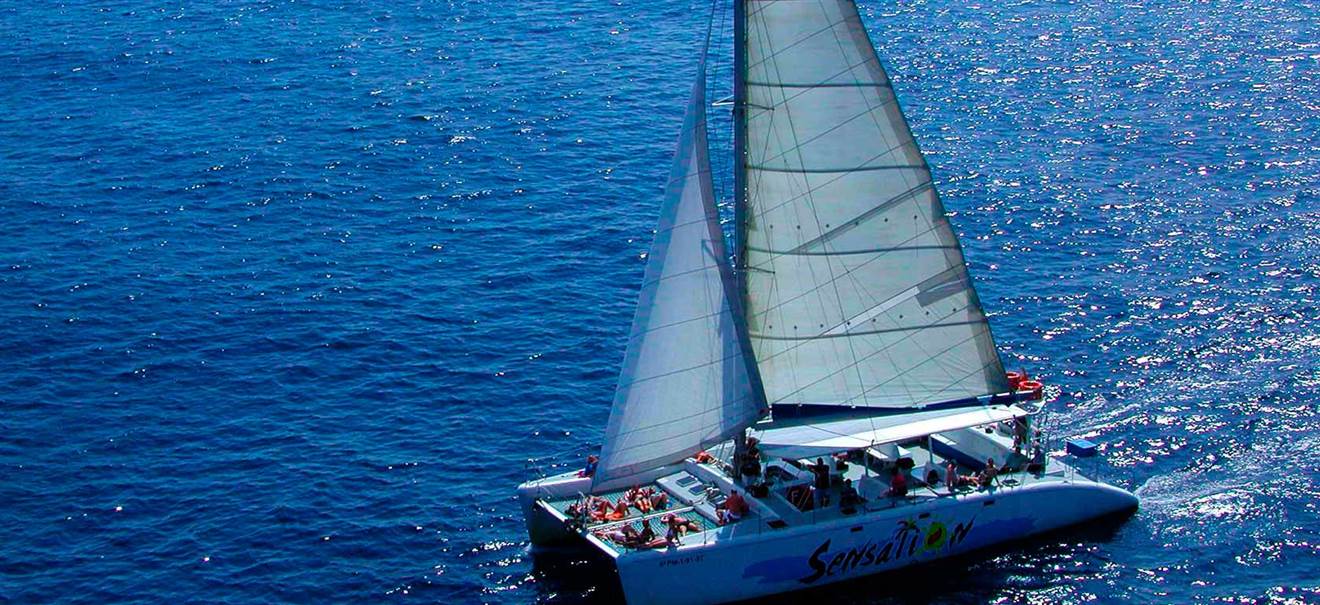 Catamaran Sensation in Barcelona
To product
Fantastic parties out at sea!
You'll never forget the unique experience of sailing on a pleasure boat while you have a party with your friends! The catamaran Sensation-Bcn is all you need to hold this fantastic event as you sail along the Barcelona coastline.
Do something different with your work colleagues or lifelong friends, or have an unusual birthday celebration. Climb aboard this catamaran that can hold up to 97 people and is just the ticket for sightseeing trips along the Barcelona coast and celebrations on the sea. 
After you've embarked, you'll sail along the coastline and enjoy views of the cityscape from the sea. You'll be able to stretch out on the nets and sunbathe, while you enjoy the music and great company. Before you take a dip, you can sip an alcohol-free aperitif. When the catamaran drops anchor, you'll be able to swim in the sea, float on a li-lo and jump off the diving board while our crew prepare a delicious barbecue.
Once back on board, you'll be able to enjoy a glass of beer or sangria with your food as you glide through the waves and feel the sun and the sea breeze. The crew on Sensation-Bcn will cater to your every need. All you should do is savour the delicious food, cool off and have a great time with your group. You're bound to want to come back after this unforgettable day out. 
What does your booking include?
3 hours trip on board the Sensation-Bcn catamaran with an expert skipper.
Language: 
English, Catalan and Spanish.
Duration:
Meeting point: 
Port Olímpic. At the end of c/ Marina, (between the Mapfre Tower and Hotel Arts), with the beach on the right and the port on your left. The mooring is located outside the port. 
Metro: L4, Ciutadella Vila Olímpica stop. 
Bus: 10, 36, 45, 71, 92, 99 and 100. 
VERY IMPORTANT:
- Please arrive 10 minutes before departure.
- In the event of adverse weather conditions that make it necessary to cancel departures, a full refund will be issued - 48 hours in advance.
- Under 18 years old are not allowed to consume alcoholic beverages.
- Guests are prohibited from bringing bottles or cans of alcoholic drinks on board or disembarking with drinks.
- The captain and crew reserve the right to refuse admission and will not allow people on board who are showing signs of intoxication or behaving in a way that may bother the other passengers or crew.
- Nudity is not permitted on board and passengers must wear attire that does not contravene public order as stipulated by the municipal bye laws.
- The boats will leave and enter the harbour with the music turned off. Guests must avoid causing noise pollution or any public order offences.
You will receive a confirmation in a separate email.