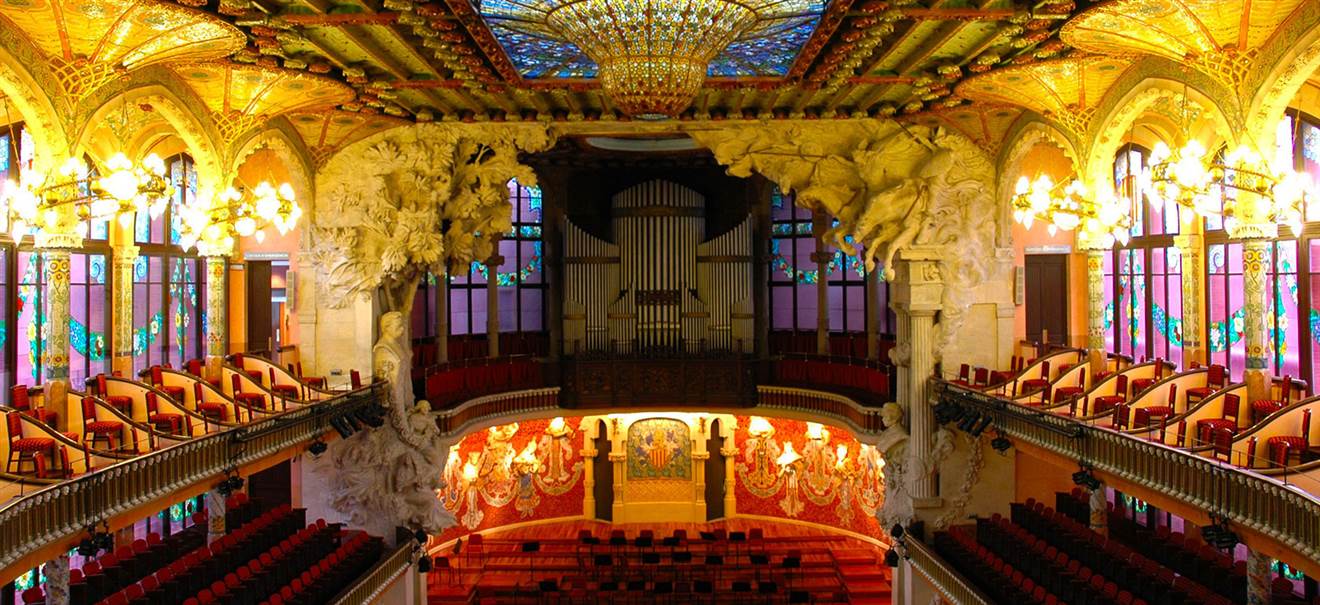 Palau de la Música Catalana
To product
One of the most unique art nouveau gems in the world!
We invite you discover the Palau de la Música Catalana, the only concert hall in the world to be declared a UNESCO World Heritage Site. It was designed by the architect Domènech i Montaner as the home of the Orfeó Català choir. Funded by public donations, the Palau is one of the most iconic examples of Catalonia's architectural and musical heritage. 
The central metal structure, clad in glass, plays with the light to make Domènech i Montaner's most significant building into a magical music box which combines all the applied arts: sculpture, mosaics, stained glass and wrought iron.
The Palau de la Música is the only Catalan art nouveau, or modernista, concert hall which has been designated a World Heritage Site by UNESCO.
Tour itinerary:
The Orfeó Català's modernista rehearsal room, including a 15-minute audiovisual about the history of the Palau de la Música Catalana and society in the early 20th century.
The foyer, a new area which provides a meeting place and is open to the public every day.
The Palau's modernista hall, flanked by two lamps characteristic of Barcelona at the time, is the former main entrance.
The concert hall, with its harmonious proportions, sumptuous décor and vast central skylight which fills the space with light. You'll have the unique opportunity to walk on the stage and see the auditorium through the eyes of the performers.
The Sala Lluís Millet is named after the founder of the Orfeó Català. Its huge stained glass window reveals the row of columns on the balcony of the façade.
* The tour of the different areas may vary according to performance and rehearsal requirements at the Palau de la Música.
Language:
English

Children from 0 to 10 years old - free entrance