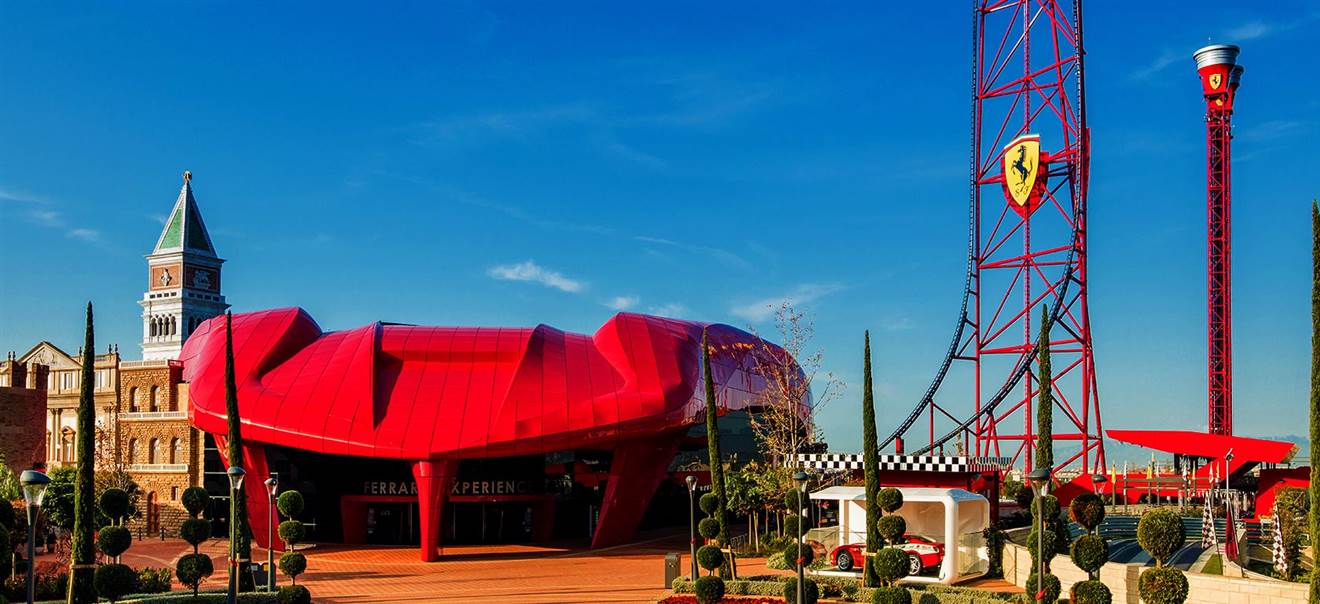 Port Aventura and Ferrari Land
To product
Don't miss Ferrari Land, the new theme park unique in Europe which arrives soon at PortAventura World.
Enjoy 70,000 m2 of speed, innovation, adrenaline, theming and internationally-renowned attractions such as the highest and fastest vertical accelerator in Europe.
Visit us for an unparalleled experience for the whole family that will certainly leave an impression!
COVID MEASURES:
Currently, it is necessary to carry out temperature controls, maintain a minimum safety distance, ensure hand hygiene and comply with the respiratory label, as follows:
Temperature control. Visitors with a temperature above 37.5ºC will not be able to access the resort facilities. In the case of hotels, access to companions will not be allowed either.
Respect the interpersonal safety distance of at least one and a half meters.
Comply with the mandatory use of masks throughout the resort. Visitors over 6 years old should always wear a mask. The use of the mask will not be required in the cases in which the sanitary regulations exonerate it.
Comply with the requirement of cleaning hands as regularly as possible and using of hydroalcoholic gel enabled in special points of the park prior to access to certain areas of the park, attractions, shops or other facilities.
THE OPENING DATE AND TIMETABLE IS SUBJECT TO CHANGE DUE TO EXCEPTIONAL MEASURES FOR THE PURPOSES OF CONTAINING THE COVID-19.
What`s included:
Tickets for 2 parks:
PortAventura World: Ferrari Land & PortAventura Park.
(Note: all the tickets for Ferrari include also Port Aventura tickets)
Schedule
PortAventura Park timetable:
Low season: from 10h to 19h.
High season: from 10h to 22h.
Halloween (Saturdays): from 10h to 22h.
Chrsitmas: from 10h to 18h.
Ferrari Land timetable:
All season (no calendar attached): from 11h to 16h.
Italian Nights: from 16h to 23h.
How does it work?
You must enter Ferrari Land through its main entrance on the selected day and within the chosen time slot. On this day, you will be able to access PortAventura Park during its opening hours. This entrance also includes a full day access to PortAventura Park within its opening time and it will be able to be chosen between the previous or the forward day to your entrance to Ferrari Land.
Print a confirmation sent to you after purchasing online and hand it in together with identification in the park.


 Salou - Port Aventura
Avda. Alcalde Pere Molas, km 2, Salou
Be aware: Entrances to Ferrari and Port ( all the tickets for Ferrari includes also Port aventura tickets)