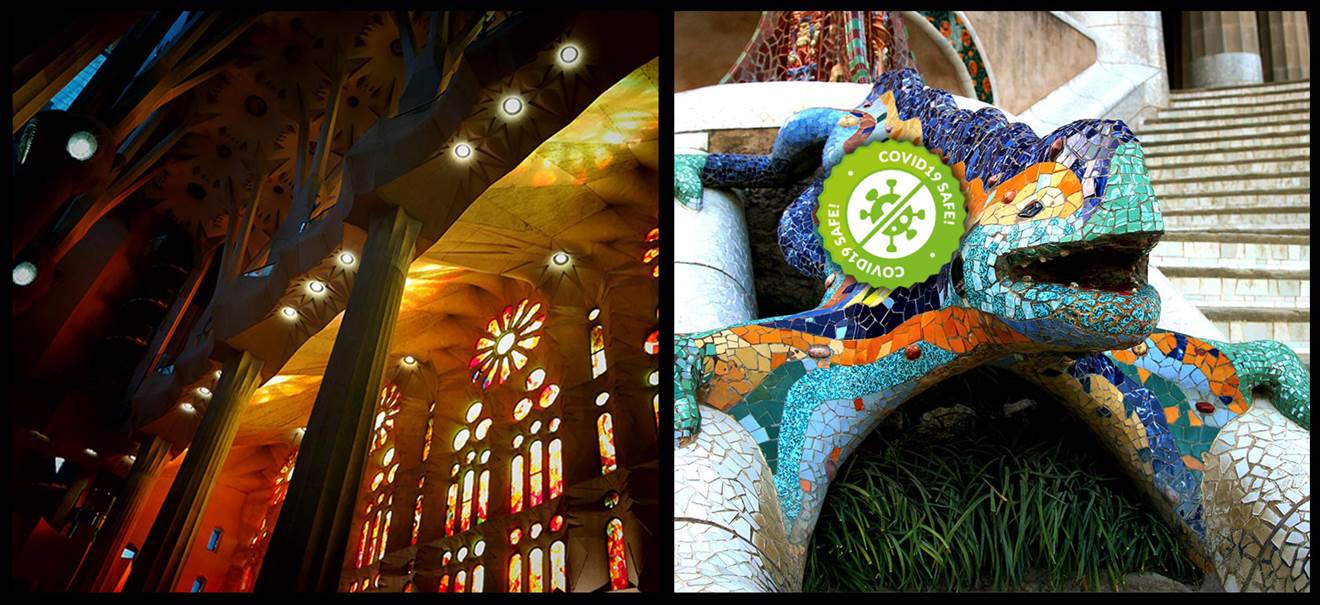 The Gaudi Bundle: Sagrada Familia & Park Güell
To product

Covid Safe
the Gaudi Bundle! Everything you need in Barcelona: Sagrada Familia audioguide APP tickets & Park Güell + amazing audioguide to get to know gaudi and both monuments!
Anthoni Gaudi is an inspiration for many! His true love for the city of Barcelona resulted in one of the biggest icons of the world like the Sagrada Familia, Park Güell, Casa Mila (La Pedrera), Casa Batllo, Palau Güell and many more! All his work attract many visitors per day and shaped Barcelona as it is right now. The Gaudi Bundle makes sure you can enjoy the best out of the 2 most visited highlights of Gaudi: Sagrada Familia & Park Güell!
COVID-19 SAFETY MEASURES  
Due to the pandemic situation and to protect you and those around you, visits will allowed with the following sanitary norms and regulations: 
Wearing a face mask can be required.
Distance between visitors is obligatory.
Guests may be subject to a temperature check.
Visit time may be limited.
Always follow the staff instructions.
WHY IS THIS PRODUCT CORONA SAFE? 
Hand sanitiser available 
Encouragement of mask wearing can be compulsory. Bring it when you can
Reduced capacity and distancing measures on the vehicles/vessels
Staff will encourage visitors to keep distance
By buying the tickets all visitors  declare that they do not have cold-like symptoms such as nasal congestion, a runny nose, sore throat, light cough, fever (up to and above 38°C) and/or shortness of breath.
When you book a ticket, you automatically agree with our Terms and condition
What's included in the Gaudí Bundle?
Fast Track tickets for the Sagrada Familia including official Audioguide APP
Fast Track Tickets for Park Guell including Audioguide by App
Audioguide of the city of Barcelona
Exterior Audioguide Tour of the Sagrada Familia - downloadable on your mobile
Please note
It is required to bring your own headphones with you in order to enjoy the audioguide.
How does it work?
After your reservation you will get an email where you can fill in your availability when you want to visit the Sagrada Familia and Park Güell. When you filled in the information you will get the tickets and the audioguide send by email
. 
Why book the Gaudi Bundle?
The Gaudi Bundle really gives you everything of the 2 most visited monuments of Barcelona. 
Don't wait outside for hours but get Fast Track Tickets
The audioguides will give you much more information on who Gaudi was, tell you more about the monuments themselves
The Barcelona application shortly covers all the highlights you need to visit in Barcelona like FC Barcelona, the Ramblas, Plaza de Catalunya, the beach, Casa Batllo and many more!
With the Exterior Tour of the Sagrada Familia you will understand much more about the outside of the Sagrada Familia with the 3 façade's which tells the story of Jesus: Façade of the Birth, Suffering and Salvation Way.
All audioguides are available in English, German, French, Italian, Spanish and Portuguese
Additional information:
When you get your ticket for Park Guell, access to the BUS GÜELL is included. This shuttle service is a quick, direct way to get to Park Güell from the Alfons X metro station (metro L4, BUS V19, H6). It only takes 15 minutes to reach Park Güell. Your entrance ticket also includes the return journey to Alfons X on the Bus Güell.