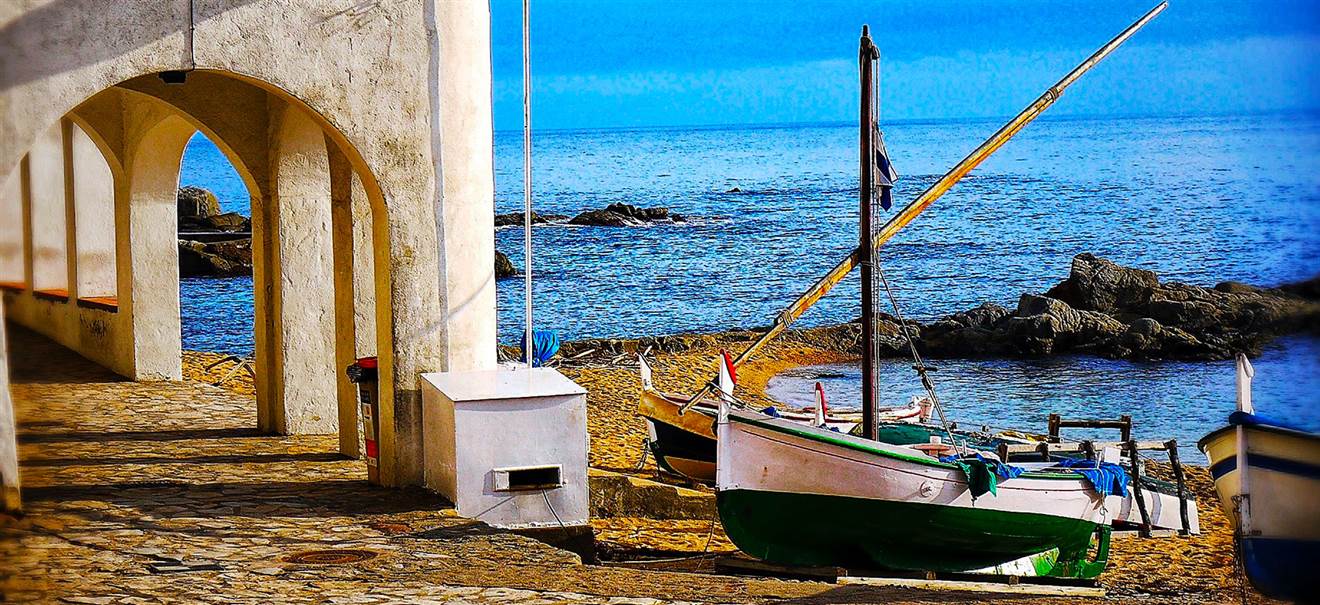 Costa Brava Tour - Full day
To product
Enjoy paradise in Costa Brava: old-time pirates islands, medieval towns and magic hidings
On this tour, we are going to visit the Girona coast, christened 100 years ago as the Costa Brava. The name is due to its unique rocky, rugged and cut shaped coastline, composed of small coves surrounded by pine forests and lapped by crystal water.
Our departure is from Plaça Catalunya in Barcelona every Tuesday and Friday at 8:30, we recommend being there about 15 minutes before departure. About 10:15 we will arrive in Calella de Palafrugell, a small fisherman's village that still retains the traditional appearance of the past. It is a village of great beauty in both architecture and landscape. The town, splashed with small bays, becomes a fusion of land and sea that is an incomparable setting. Of course, there is time to explore the village by yourself. Enjoy the scenery and for sure, take great photos.
About 11:00, we will start walking along Camino de Ronda, which is going to bring us to the neighboring town of Llafranc. The hike will be 30 minutes and is suitable for all ages. The "Camino de Ronda" borders all of the Costa Brava and was used to control the maritime smuggling. Today, thanks to this, you can discover beautiful spots that otherwise wouldn't be accessible. Llafranc is also a small, elegant and captivating seaside town, like all the delightful towns along this coast.
About 12:00 we will travel to Pals, a town located inland and on the top of a hill. The village is built entirely in an integrated medieval site. At the top, there is a cylindrical tower from the 12th century, which is visible from afar.  It has an excellent terrace that offers stunning views of the Costa Brava and its surroundings.
Our next visit is to l'Estartit, a seaside village with an important port and known around the world as being an important diving center because the Medes Islands archipelago lies only one kilometer from the coast. The Medes Islands are of great interest because of the wide variety of flora and fauna that inhabit the whole marine area, with more than 1200 species classified. The ecosystem has been identified as the best marine reserve in the occidental Mediterranean. It was declared as a National Natural Park and ZEPIM. (Specially protected area of importance in the Mediterranean).
You will have free time to have lunch and take a small stroll around town and at 15:00 we will board the Nautilus, a boat with submarine vision. The boat trip is about 1h30. First, we will go to the outer islands where the views are spectacular. Through submerged cabins with large windows, you can enjoy an exceptional view of a seafloor full of life, as if you were diving! The itinerary continues to the stunning cliffs of Sierra de Montgrí only accessible by boat and one of the most preserved, unspoiled areas of Costa Brava.
Our last stop is at the extensive Greek and Roman ruins of Empuries, where we will arrive around 17:00. Once there, we will start a guided tour around the whole site. It is the only site in Spain where both Greek and later a Roman city existed in collusion. Empuries is also located in a privileged surrounding, just in front of the sea. In the Greek city, we can admire the remains of city walls, the Acropolis, the market square and numerous buildings. In the Roman city, the highlights are a mosaic floor in excellent condition, the forum remains of an amphitheater, several statues and vestiges of street frameworks.
Highlights:
Explore the magical coast by coach, boat and walking on stunning cliffs and turquoise coves
Discover a National Geographic Top Travel Destination, just one hour away from Barcelona
Itinerary:
 8.30 h. Departure from Barcelona, plaza Catalunya. 
10.15 h. Arrival in Calella de Palafrugell. 
11.00 h. Walk along  Ronda Path.
11.45 h. Arrival in Llafranc.
12.15 h. Arrival in Pals. Walking tour.
13:45 h. Arrival in Estartit. Free time. Lunch.
15.00 h. Sail with boat around Medes Islands.
17.00 h. Arrival to Empuries remains. Guided tour.
18.00 h. Return to Barcelona.
20.00 h. Arrival in Barcelona, Plaza Catalunya.
Duration:
11,5 hours



Meeting point:
Plaza Catalunya 



Departure:
Tuesday and Friday at 8:30 



Arrival:
8:00 

Languages on board:
English, Spanish, German, French, Italian and Russian

Included:
Transportation in a comfortable bus with free WI-FI
Expert Guide
Boat trip
Taxes
Tickets to Empuries site

Not included:
Food and drinks other than indicated
Personal Insurance
Any service not specifically included
Note: Although the tour is not particularly challenging, comfortable shoes are advised. Sun protection and a hat are also advised in order to better enjoy the breaks at beaches and coves.
The tour is available from the 1st od May until the 15th of October