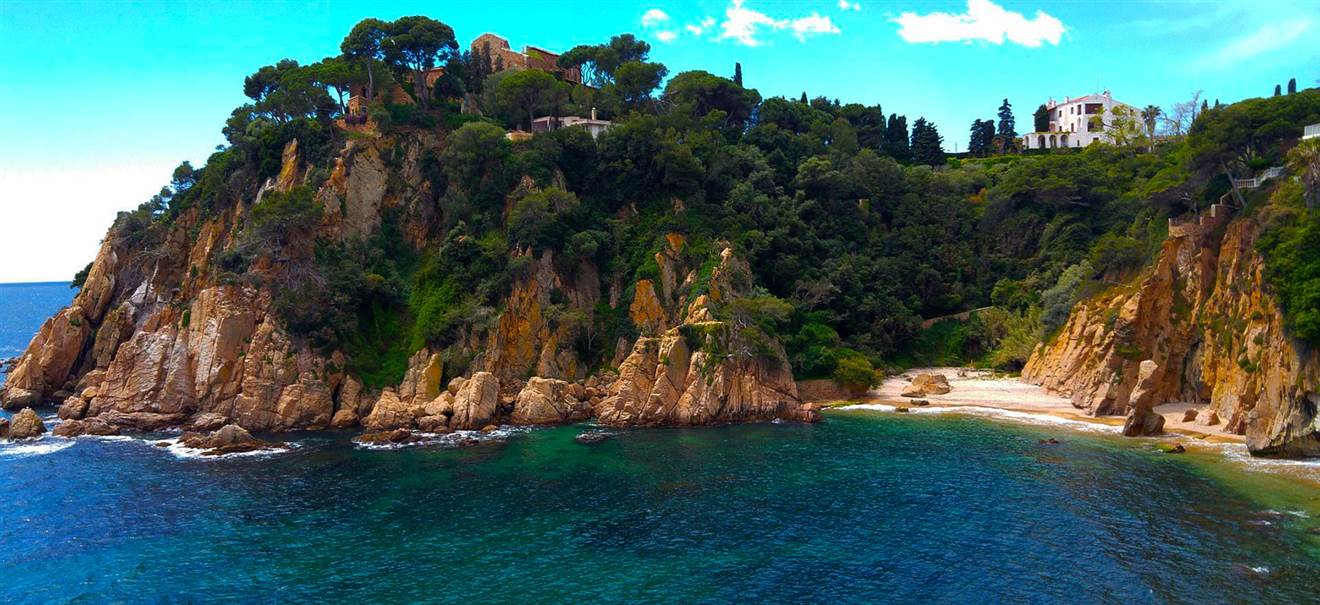 Costa Brava - Half day Tour
To product
Enjoy paradise in Costa Brava: idyllic coves, medieval castles and a boat trip
On this tour we are going to visit the Girona coast, christened 100 years ago as the Costa Brava.  The name is due to its unique rocky, rugged and cut shape coastline, composed of small coves surrounded by pine forests and lapped by crystal water.
Its natural wealth and beauty is apparent in several territories and protected areas, such us Cap de Creus, the Emporda Marshes and the Marine Reserve Medes islands.
The fame of Costa Brava is also due to its villages. Small fisherman towns, with whitewashed walls and narrow winding streets, today still retain their charm. 
This area has historically been a point of entry, transit, and settlement for different cultures and civilizations.  Each has left its footprints until nowadays.
In this half day tour we will discover the southern part of the Costa Brava visiting two villages that represent the essence of that coast. They are opposed to each other but, at the same time, complementary, and after few hours after leaving Barcelona, we will go back with a complete idea of what Costa Brava is.
Our departure is from Plaça Catalunya in Barcelona every Wednesday and Saturday at 8:30am but we recommend to be there about 15 minutes earlier.
We will take the motorway and after 1h15m we will be at Lloret de Mar, the main touristic village of Costa Brava. Upon arrival we immediately realize of its bustle: there will be multiple coaches arriving from all over Europe which bring visitors to enjoy its beaches, hotels, shops, activities and, above all, its lively nightlife.
We will have about an hour to explore this colorful and dynamic village with strong personality.
Along its unique beach promenade we will be able to enjoy great views of its beaches, arising from the majestic beach of Lloret to the hidden Sa Caleta. In addition, two small hills on both edges of the beach promenade are privileged view points throughout the site and surroundings.
Walking through its narrow streets, which still have reminiscence of its recent maritime past, we will find plenty of shops to suit all tastes: from the latest brands to the typical beach bazaars.
In the middle of its most famous shopping street we will also be able to admire architectural jewels of great value such as Saint Roma church, with an exquisite modernism style, and inside the church, a 16th century altarpiece which is still so well preserved.
At approximately  10:50am we will go on board DOFIJETS, which will lead us to the neighboring village of Tossa de Mar. During the sailing trip we will be able to enjoy the unique and characteristic landscape of Costa Brava: a procession of different huge cliffs which have been shaped in fanciful forms over the centuries by the strength of sea and wind. 
At about 12:00 pm we will get to the emblematic village of Tossa de Mar, considered "the pearl of Costa Brava" because in this small area we can find all those landscape and historic elements which have given it such well-deserved fame. 
Its spectacular sceneries, from its shores, beaches, caves in the cliffs to its lush vegetation, turn it into one of the locations that has better preserved its natural environment in perfect harmony with the tourism industry.
History has left his footprints, from the Romans in the Vila Romana dels Ametllers, one of the most important villas in the ancient Roman province of Tarraco, which is a classic example of a Roman Mediterranean farming establishment, to its emblematic fortified Vila Vella or Old Town of Tossa, which was listed as an artistic-historic monument in 1931 as it is the unique remaining fortified medieval town on the Catalan coast. Today, little is left from the original 13th-century structure and today's ramparts are the result of several restorations undertaken throughout the years, especially that one dating from the late 14th-century.
Outside its walls, we can find the traditional fishing neighborhood, known as Sa Roqueta, which still maintains the sailor atmosphere of these typical villages on Costa Brava.
Once we arrive in Tossa de Mar, we will begin a walking tour from the beach, following the fortified perimeter up to the lighthouse on the top, for those who are interested. Over there, you will appreciate stunning views from the coastline. When descending, we will go through the narrow streets and stony houses of Vila Vella until we get to the fishing district. From there on, you will have free time to have lunch. This village has the greatest gastronomic offer from all Costa Brava.
A peaceful walk around the beach will help us find places with unique perspectives on that site.
The Roma Vila dels  Ametllers, with well-preserved mosaic floors, is located in the city center and is easily accessible, with free admission and explanatory panels. A complete visit is recommended.
You cannot leave Tossa de Mar without walking around the small and attractive shops on its typical streets.
At 3:00pm the tour will be finished and we will go back to Barcelona, where we will arrive at about 4:30 pm at Plaza Catalunya.
INCLUDED IN PRICE:
Comfortable bus, professional guide, ticket for boat and taxes.

EXCLUSION: Lunch

CHILDREN: Free under 6 years old.  




BILINGUAL TOUR ENGLISH-SPANISH

FREE AUDIOGUIDE SERVICE IN GERMAN, FRENCH, ITALIAN AND RUSSIAN



DURATION:  
8 hours



TOUR SCHEDULE
8:30  h. Departure from Barcelona, plaza Catalunya
10:00 h. Arrival in Lloret de Mar. Free time
10:50 h. Sailing tour to Tossa de Mar 
11:45 h. Arrival in Tossa de Mar. Walking tour and free time.
15:00 h. Return to Barcelona
16:30 h. Arrival in Barcelona, plaza Catalunya
Note: The Half Day Tour runs from the 1st of May until the 10th of October