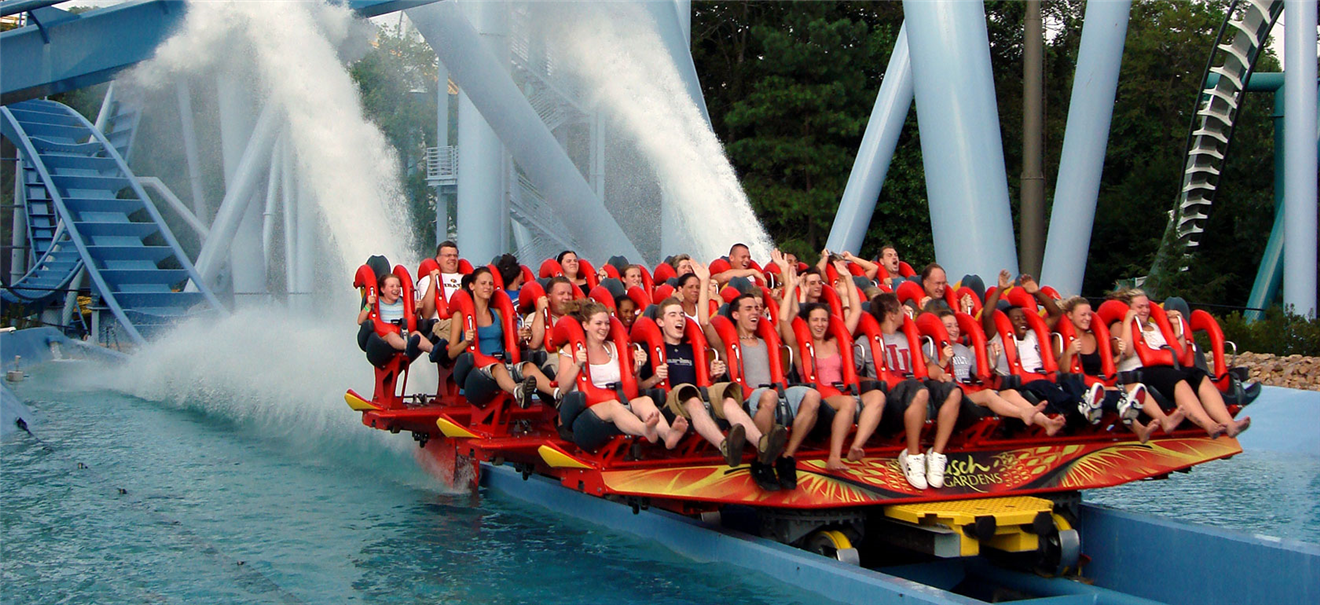 One day trip to PortAventura from Barcelona (BCNPORTA)
To product
Go on an unforgettable adventure in the world where you will visit exotic places like China, Polynesia, Far West, México, Mediterranean and Sésamo Aventura, the family area set in the world of Sesame Street.
In each area you expect endless attractions, shows, shops and theme restaurants. 

PortAventura Park offers 40 attractions that will delights adrenaline junkies. Discover Angkor and you embark on a fantastic adventure in lost kingdom, go for the 8 loops of vertigo of Dragon Khan, rising to 100m free drop test Hurakan Condor or try Furius Baco, the fast shuttle that will launch you from 0 to 135km/h in less than 3.5 seconds. Not forgetting, of course, the dramatic fall from 76m awaits you in the highest roller coaster in Europe: Shambhala!

Attractions and more! In PortAventura Park you can enjoy every day up to 40 dazzling shows: cancan dancing, acrobatics, tribal dances of Polynesia and humor. Do not miss Generation Forever, a fantastic display of music, dancing, lights and stunts in the Great Imperial Theater. To begin! 
COVID MEASURES:
Currently, it is necessary to carry out temperature controls, maintain a minimum safety distance, ensure hand hygiene and comply with the respiratory label, as follows:
Temperature control. Visitors with a temperature above 37.5ºC will not be able to access the resort facilities. In the case of hotels, access to companions will not be allowed either.
Respect the interpersonal safety distance of at least one and a half meters.
Comply with the mandatory use of masks throughout the resort. Visitors over 6 years old should always wear a mask. The use of the mask will not be required in the cases in which the sanitary regulations exonerate it.
Comply with the requirement of cleaning hands as regularly as possible and using of hydroalcoholic gel enabled in special points of the park prior to access to certain areas of the park, attractions, shops or other facilities.
THE OPENING DATE AND TIMETABLE IS SUBJECT TO CHANGE DUE TO EXCEPTIONAL MEASURES FOR THE PURPOSES OF CONTAINING THE COVID-19.
Inclusions:
Air conditioned motor coach
Entrance to Port Aventura Park
Exclusions:
Lunch or other services not specified above
Hotel pickup and drop-off
Period: 
27.03 - 08.11: every day
14.11 - 29.11: Saturday, Sunday
05.12 - 08.12: Monday, Tuesday, Saturday, Sunday
12.12 - 20.12: Saturday, Sunday
21.12 - 10.01: every day
Departure Time:
09:00h



Check in time:
15 min prior the departure



Duration: 
12 hrs approx.   
Departure&Arrival: 
Balmes, 5 (Barcelona)
Buy tickets online and skip the line!