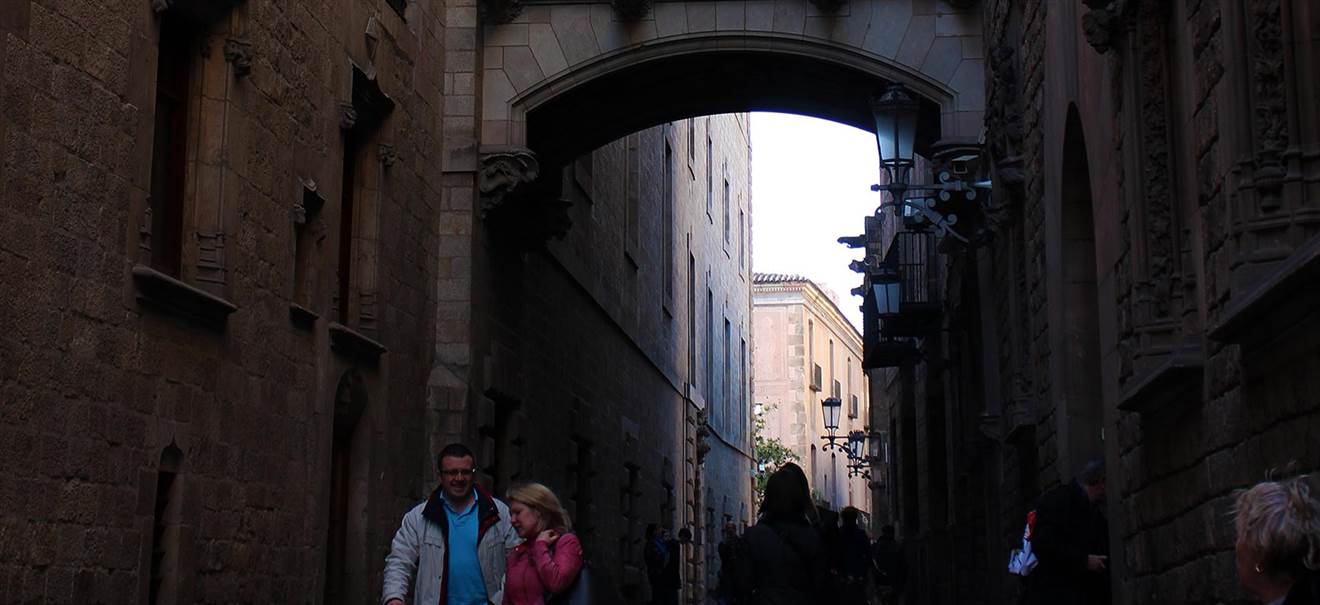 Barrio Gotico Guided Walking Tour
To product
Get guided through Barcelona's most popular area of the city!
The Gothic Quarter charm lies not only in the history and architectural style of the buildings, but also in the variety of wineries and terraces available to enjoy a good wine and tapas.


At the end of the tour you will have a completed a 2 hour walk in which you will have learned all the ancient stories that reference the very streets you walked through. You will also have learned about the different locals and places that are essential to your stay in Barcelona.  


Let the oldest quarter of Barcelona seduce you with all its secrets…you will surely be surprised.
The Barrio Gotico Guided walking tour is offered multiple days a week in different languages. The Barrio Gotico Guided tours are being offered in small groups, keeping the experience more personal, friendly and fun for both group and guide.


You will receive your voucher by email!


Departures:
Daily (3 days a week) in the late afternoon, starting from the meeting point in front of Hotel Olivia Plaza at Plaza Catalunya. Please make sure that you arrive on time and to bring your voucher!


Duration:
+/- 2 hours

English

 

Monday, Thursday, Saturday
After your booking, you will receive your voucher by email!
Would you like to book a private tour with your family, group of friends or business relations or would you like to book our Barrio Gotico Guided Walking Tour for a big group? Contact us!
Buy your ticket
on Ticketbar
Get your ticket
via e-mail
Show your ticket
on your phone
20 reviews
Today's quote
The guide knew so much about Barcelona and the different Barrios, it was impressive! Barcelona is a beautiful city and Barrio Gotico is worth seeing. We saw many stunning buildings, great architecture and little streets with cute cafes. Thank you for the great service ticketbar! Sarah
Reviews of Barrio Gotico Guided Walking Tour
20 reviews
5
This tour really let us see the insights of this amazing area, the guide was very experienced and told many interesting facts and had creative touch for the tour. Do not miss Gotico when in Barcelona!
5
Fabulous tour. The old quarter is beautiful and full of history. I highly recommend this tour! - R. Hastings
5
Great tour! I was really impressed by our tour guide Chris. He gave us lots of great information and answered all sorts of questions including ones about where to go and what else to do in Barcelona. Thank you Ticketbar and thank you Chris! Emma S.
4
Beautiful architecture, and amazing city. Lovely experience, a great tour!
5
i felt in love with Barcelona! If you want to get know well the city and its history you have to go for this tour! Mike
4
That was really great tour. I enjoyed a lot! The guide is funny and interesting. Highly recommended!