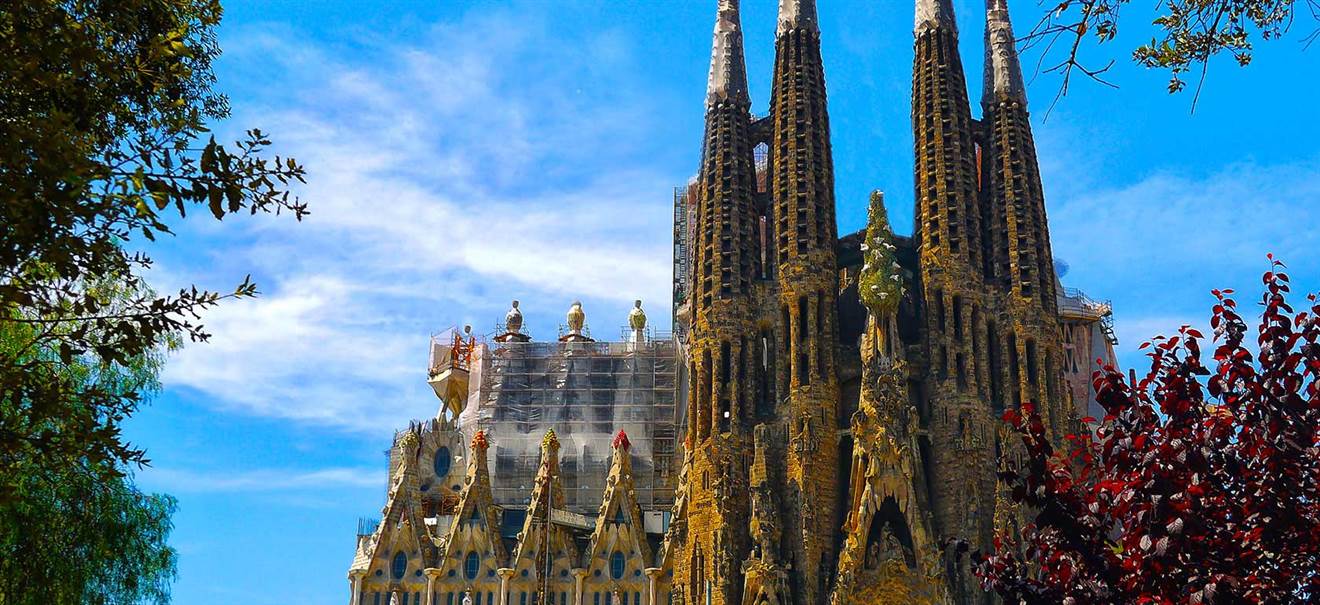 La Sagrada Familia Guided Tour, Skip the line!
88 reviews
To product

SKIP THE LINE!

AUDIOGUIDE
Optional

100% MOBILE!
Millions of tourists visit La Sagrada Familia annually to see this beautiful Roman Catholic basilica, designed by one of the most brilliant architects the world has ever known, Antoni Gaudi.
Let an experienced local guide take you into La Sagrada Familia and experience Gaudi's masterpiece in a personal, friendly and informative way! During the tour, the guide will take you around the exterior as well as inside the impressive building. In addition, the guide will take you to the onsite museum and give you information about the history and construction of La Sagrada Familia through photographs, sketches, and plaster models. The guide will also tell you more about the fascinating life and career of Antoni Gaudi.
All guided tours are offered several times a day in different languages. 

Languages:
English: 6 days a week (except Sundays), morning & afternoon 
Departures:
6 days a week (except Sundays), starting from the meeting point at the corner of Carrer de Provença & Carrer de la Marina.
Duration: 
1 hour and 30 minutes (approximately)
After your booking, you will receive your voucher by email. The entrance ticket for La Sagrada Familia is included in the price. You can select morning or afternoon tickets. An exact time slot will be given after your reservation.
Please make sure that you arrive on time and to bring your voucher and ID! (There will be no tours on December 25th & December 26th and January 1st & January 6th).
Buy your ticket
on Ticketbar
Get your ticket
via e-mail
Show your ticket
on your phone
88 reviews
Today's quote
Mireia was a very nice and professional guide. We have nothing but possitive and nice things to say about her! We have booked her the last monday in december the year 2026 at 9.30 outside the Church in the Gaudi-corner ;-) Yours sincerely Jonas Ivarsson
Read all reviews
Reviews of La Sagrada Familia Guided Tour, Skip the line!
88 reviews
5
We would recommend this tour to everybody! Great guide - she did her job very well!! The best guided tour in Barcelona. La Sagrada Familia is absolutely worth a visit with this guided tour. Worth all the money.
5
The guide was fantastic. Greetings to her from 4 Danes. Venlig
4
We have enjoyed the Sagrada Familia tour, excellent guide ! She was so enthusiastic that we have decided to return to Barcelona when it will be finished. wkr
5
we had a wonderfull guided tour of La Sagrada. The guide was well-informed, gave us many interesting stories about La Sagrada and Gaudi without feeding us too many details. She had a nice spirit and we enjoyed the tour. best regards Kirsten
5
We had an outstanding tour. Very well guided. Good pickup point. Our tourguide was very well informed and guided us on a pleasant way. We highly recommend you to tourists to enjoy La Sagrada Familia. A must see visit during a Barcelona city trip. Greetings.
5
Hi, We had a wonderful tour. Our guide was very kind and very good. Thank you Nel and Nico
5
Hi It was fantastic. Our guide was great. Goodbye
5
The tour was fantastic! The guide was so enthusiastic and really enjoyed to tell everything about La Sagrada Familia. A perfect 10 for us! Kind regards, Marco
5
Hello, we enjoyed your tour very much, the guide, she used simple English words so even for our (native Dutch) teenage girls it was easy to understand. Due to some maintenance on the Barcelona metro we took the wrong line and it took 10 min extra time to get there, and in between the ticket office kindly phoned us if we were about to arrive. The booking through ticket bar is ok, there was no need to take 5 printout tickets for 5 persons, but the guide already new our names that was a warm welcome. It would have been easy if there was a bigger map of how to get to the meeting point, in our hurry we went to the wrong corner at first – mc Donald instead of KFC It was really crowded when we came out of the metro. But then again; we were impressed by the Sagrada en we enjoyed the explanation and stories told by our guide. Vriendelijke groet, Sonja
5
The guided tour through Sagrada Familia was terrific. And the young woman who led the tour, whose name I cannot remember...Maria, I think...was fabulous. She knew the subject very well and she had a great sense of humor and her enthusiasm was delightful. Thanks for making that day so special. Sincerely, Arthur and Carol
5
The Tour was great. The welcome was warm and the host was very enthousiast. We will recommend it to all our friends! Greetings from Corinne
5
We were very happy with the Sagrada Familia Tour during our visit to Barcelona. The guide was excellent - knowledgable, positive and with a very interesting and engaged presentation. We really enjoyed the tour. Kind regards, Bengt
5
The guide was fantastic. A lovely personality, great English and really interesting to listen to. I would highly recommend the tour. Karen
5
Dear TGI We had a fantastic tour of Sagrada Familia with a very competent and enthusiastic guide. Unfortunately I forgot her name, but she was really good and worth it. Also great to skip the lines. Best regards Tine
5
We had a wonderful time at La Sagrada Familia guided Tour. The guide was very good and very knowledgeable. She spoke very good English and explained it all very well. We would recommend the tour to all our friends. Thank you
5
Everything functioned very well and our guide was fantastic.
5
Dear Mr/Mrs, I enjoyed the tour of La Sagrada Familia very much. Our guide was very knowledgeable and it is a unique and very impressive building. As for the rest of my stay I Barcelona I enjoyed it immensely. A very pleasant city full of friendly people. A city I will certainly return to time and again. Thank you.
5
We loved the tour so much we already referred friends who will be taking it next week.
5
Our Group had a wonderful tour at La Segrada Familia. The guide did an excellent job, and all of us where very happy With this tour. The guide was easy to understand, she spoke fluently English, and she was very charming. Thank you for a wonderful guided tour! We where 12 persons in the Group, and we were all very satisfied!
5
I enjoyed the tour very much. The guide was a very pleasant person who seemed to have a great knowledge of the Church and its creators. Marika
5
La Sagrada Familia is an overwhelming masterpiece and without our TGI tour guide, our experience would remain incomplete. Our guide, the material she shared, our timing...everything was perfect. Hope to visit Barcelona again soon. Best regards Ç&A
5
I want to let you know that we had an excellent and most enjoyable Sagrada Familia tour . Guide Mireia was absolutely fantastic ! What a lovely happy interesting and knowledgable guide she was . We will definitely recommend your tour to other people and when we return to Barcelona we will visit again Thank you Andrew and Deborah
5
We very much enjoyed our stay in Barcelona. Our guide for la Sagrada Familia (a young woman, but you can probably retrace who she was) was very good and expert to tell us as more as she could on the monument and on Gaudi in spite of the crowd. Best regards, Hélène
5
I can say that the guided tour was fantastic! 1. Meeting point easy to find 2. The size of the group was OK 3. The technical equipment fine 4. and, what a fantastic guide: Lively, passionate and very knowledgeable We had a great experience. Best regards Knud
5
My friend and I greatly enjoyed the La Sagrada Familia tour. Our guide was full of information and quite funny. In fact, I think it was one of the best tours I have taken. Thank you
5
everything was great all by the book great guide
5
La Sagrada Familia tour was superb Our tour guide Maria, I know that's not the proper pronouciation,met us early outside Kentucky Which was easy to find and the next 2 hours were the highlight of our 4 day stay in Barcelona Maria was so passionate explaining everything connected with the church and Gaudi Great tour Great tour guide Kind Regards Geoff
5
We love the tour! Our guide was marvelous! She was very full of energy and very informative. I would highly recommend this tour
5
We had a very great experience seeing Sagrada Familia for the first time. And an extremely good guide ! She had great knowledge on the subject, and she was able to share it with us in a very fascinating way. She spoke understandably and not too fast. Thank you for that ! Personally I was in Barcelona only for 2 days, far too short, and I certainly intend to return before too long. Kind regards Kirsten Bjørke
5
We were very satisfied with your guide and the whole experience on June the 25th! We have already recommended the La Sagrada Familia guiding to our friends who are visiting Barcelona next week. They have now bought their tickets:-) Kind regards Kari
5
First thank you for your very quick and comtetent handeling of our booking. We had a really good experience whit your guide. He was very good informed about everything about the Sagrada Familia. He gave us a good insight in how the church was build, and what the prospects are for the church and the surrounding area. We will gladly recommend TGI City Tours among family and friends. Greetings from the (pt) cold and rainy Denmark Mona and Ebbe
5
We had a lovely 1 1/2 hour with our guide who was Pleasant and scilled at the subjekt
5
We generally don't like guided tours, we get bored easily - but this tour guide was very pleasant and we liked it a lot.
5
Dear, We were very pleased with the Sagrada Familia guide.She explained it very well with great enthusiasme. Gr
5
This tour was great and we had a great guide as well. We advice your guided tour to everybody who's travelling to Barcelona. Barcelona is super and we love to come be back someday. Kind regards, Lilian
5
Our TGI tour of La Sagrada Familia was a highlight of our time in Barcelona. Not only was the site spectacular but our Guide was amazing and knew just how to prepare us for what we were about to see. She kept us outside while she created a curiosity and suspense about the architect and his special project. When we finally stepped inside our group let out a collective gasp as we looked around at the masterpiece of Gaudi. We would highly recommend not only this tourist site but also your tour guide because of the special experience she helped us to enjoy. Keep up the good work!
5
We were pleased with the excellent tour and a enthusiastic guide. Best regards
5
Just a great tour at the Sagrada with a great guide ! Good job well done ! Thanks Jan
5
We had a great time in Barcelona. No complaints, good service. Thank you. Maybe we come back sometime..to refresh our good memory. Netty ans Hans
5
We used your tour services in Oct. Our tour guide was EXCELLENT. She met us promptly at the location you had described. The advance queue saved time. The headphones to get personalized tour info was excellent. Our guide was very knowleable about all aspects of la famillia segrada. She took the time outside to set the scene for the inside, that was emotionally overwhelming, when you saw the colour, light, and construction. Then to the outside again and the modern interpretations. She guided us to the direction of the underground part, that we could explore at our own pace. Very good value for money. This is one of the top sights we have visited in Europe and will definitely be recommending your services in the future. Well done and thanks again to our guide. She was fabulous.
5
Hello! I just want to tell You, it was a magnificent experience. La Sagrada was so magnificent that you almost do not realize that an architect could be so farsighted. We got the earth's best guide. Wow, where was she just clever and tremendous helpful. It was truly one of the experience that will stand in our memories forever. We gladly recommend TGI City Tours to our friends. Best regards Dorte
5
The guide gold us a lot of things about the sagrada. It was just perfect!
5
We had a fantastic tour of the Sagrada Familia, Our guide was very extrovert, helpful and knowing. She showed a fantastic engagement, and seemed to be able to answer all our questions. She helped os to spend a truly enjoyable day. Sincerely yours, Hans
5
Dear Mr/Ms. at the time of making the reservation for our tour, we did not know what to expect. The welcoming near KFC restaurant was relaxed an freindly. The comment on the Sagrada Familia, was very good to understand although english is not our first language, the lady was very enthousiast and also very well informed. (she knew what she was talking about). I have the idea if we had not booked our guided tour we would yust have visited an old building. Now we came to understand the filisofie behind the building. In short : it was money very well spend. Thank you for that. If i hear of someone visiting Barcelona i allways recommend your services. Greetings from rainy Holland
5
Helle We can just say, that we have enjoyed our stay in Barcelona - and that it was a great help for us - we visit Barcelona for the first time - to experience Barcelona and get inspiration as we took both guidet tours in the City.
5
Everything worked out perfectly, thanks! Big compliments for the guide, she was passionate, inspiring and was able to make us feel the fascination eluding from Gaudís work. The group was very happy to have her!
5
Dear city tours, I can keep it very simple , It was the best tour i have ever had! Compliments to our guide!! Greetings, Johan
5
We have the wonderful week in Barcelona - and your guide trip in Sagada was among other things, to make the holiday perfect. The guide was very knowledgeable - and living in his explanation - praised wizard. Regards. Susanne & Keld
4
Hi We had a very good experience with the Sagrada Tour. The guide was extremely knowledgeable and was very conscious about showing and explaining everything. Also the size of the group was good. Br. Kirsten"
5
It was excellent! Fantastic guide - she told us a lot and in a very nice way - unforgetable guider tour and I have already spread the word. Thank you for a fantastic guided tour. Vh Birgitte Lund
5
Hi, We had a great Sagrada Tour. Our guide was terrific! I will definitely use TGI again if I ever get the chance and also recommend it to my friends. Best regards, Kerstin
4
The tour was excellent. We really enjoyed our guide and would recommend to anyone.
5
Hello :-) We were very content with our guided tour (on june the 14th 2014) The guide was very competent and pleasant to be around. Thumbs up from us :-) best regards Bente
5
Hallo and thank you. We had the most wonderful tour with your guide. I have already recommeded you to many people.By giving your e.mail. Thank you and thank ´s for Barcelona the most wonderful city. Helle
5
Hello, from a Sunny South Africa It is with great pleasure that I can say that our trip to Barcelona was really wonderful, we all enjoyed it immensely. The tour which we booked was very enjoyable, our Guide was excellent, she kept us interested and she was informative and friendly. Booking the tour was easy, and we were very glad to not stand in those long queues. I would recommend your tour, any day. Please convey our thanks for making our visit memorable. Regards Gorete
4
Hello. We enjoyed our stay in Barcelona very much, especially because of our excellent guide in La Sagrada Familia. We could have listened to her for hours. Greetings from Copenhagen. eva
5
Hi, the tour was really good, just the right speed. I've already recommended it to my Mother in Law. Our guide was very knowledgable and her English was brilliant. It's a stunning place. Regards
5
Dear TGI Tours, We enjoyed the Segrada tour very much.. and your guide was exelent. Barcelona is a great city so we have already spread the word to many of our friends.. See you next time we come and visit Barclona With best regards Jette & Kim Copenhagen
5
We were very happy to join your Sagrada Tour. The charming young woman who guided us did an excellent good job - knowing what she was talking about, friendly, funny and smiling. But first and foremost she handled the fact, that our 17 year old daughter participated in her permanent wheelchair, in a most professional and though caring way. We already have spread the good words to your friends an family in Denmark! Best regards, Astrid
4
Hi The tour was well organised and the guide very good!!!! Thanks! Regards, Petra
5
We liked the tour very much. The guide was excellent! Greetings Liss
4
Nice experience. The guide was Professional. No waiting to enter Sagrada. Kind regards Geir
5
Hi everything was perfectly fine. I enjoyed the tour very much especially with this particular guide! The girl was brilliant indeed! We started in time. We could ask questions and see everything what was possible to see. I can really recommend! Pozdrawiam / Best regards / Mit freundlichen Grüßen Magdalena
5
Hello We would just like to tell you, that we were VERY satisfied with our guiden tour of Sagrada !! It was the high-light of our trip to Barcelona !! AND . . . . . when we came home to Denmark, we booked 2 tickets more to give as a gift to our very good friends, who are going to Barcelona in September 2014. SO . . . . we can highly recommend your services :) Many greetings John and Jannie Denmark
5
Hello, We enjoyed the tour a lot. The guide was super. To our opinion she took care of everyone and she had very good insight in the cathedrals history and architecture. The headphone was also a good idea. All in all we are impressed by the cathedral, the city of Barcelona and the friendly inhabitants. We vill be back some day. PS. I visited the cathedral first time in 1968. That was before the large room was commenced. Then I visited in 1975, 1985 and now in 2014. Knut from Oslo
5
Our tour of Sagrada was AMAZING! Our tour guide was one of a kind--probably the best tour guide we have ever had! She was so passionate and knowledgeable and she made the stories come alive for us! We did have a bit of trouble finding the meeting place. Perhaps an actual ""You Are Here"" type sign at the meeting place would be helpful. Our guide was ever so helpful for other tour participants when they were lost and trying to find us (via cell phone and contact with the main office). Thank you!
5
We certainly enjoyed our time in Barcelona. Booking our tickets for the visit to Sagrada tour was the Best thing. Tour by guide was excellent with no queues or waiting time. We definitely would recommend this to any traveller for Barcelona. Best wishes. Mary
4
This tour was excellent with a very well-informed and friendly tour guide. The cost was very reasonable. We totally enjoyed our experience in looking at the magnificent work of Gaudi. John and Donna
5
If you don't get the tickets online for a guided tour, you will spend a several hours waiting in line outside La Sagrada Familia. The tour was perfectly organised, the meeting point easy to find. Thanx a lot! Aaron, Denmark
5
We want to thank you for both, the "Sagrada Familia Tour" and especially the "Barrio Gotico Tour". We enjoyed the time with your guide very much and have seen a lot of things we did not expected. Thanks again and many greetings from the cloud covered Berlin Markus
5
The tour was first-class! We were a group of eight, our guide was knowledgeable, friendly, encouraged and answered all our questions. Couldn't ask for more! Maximum size of groups is perfect. Thank you all!
4
In my first time in Barcelona we saw many really exciting places and met only friendly and happy Spanish people. What stands out most clearly back in my memory after a particularly delightful and rewarding trip is - Sagrada Familia The guide gave us a wonderful tour th. 6. of marts 2014. WOW!!! She could tell - both with factual information and a high degree of enthusiastic joy of storytelling. Thank you ever so much Maria
5
Everything about the tour was excellent. Our guide was friendly and knowledgeable. A bargain.
5
We had a great experience during the tour – our guide was highly professional and we enjoy it all as our kids did, a great thing too especially with small kids, we never had to stay in line with the tour package we had, thanks again!
5
Hello We had a great experience with your guided tour to La Sagrada Familia. Our female guide ,knew the facts about the cathedral,and could also answer the questions that came up from us. She talked very good English,and since we were a small group.we could always hear what she said. She had a very positive and nice appearnce. As a retired teacher I valued this tour very high. With our best regards and a hope of returning to Barcelona. Terje and Bodil of Norway.
5
A very competent and fun guide! A wonderful experience!
5
I was very impressed for the service I had with Ticket Bar the acted efficiently with my needs special thanks to Julian who' s swift response was like magic And many thanks to Mireia Rosicart our tour guide who was very informative and lovely Thank you very much
5
A very competent and interesting guide.
5
We were very satisfied with this guided tour. The guides knowledge was excellent, and the same was her language. She was a very nice person ,too. Kindly regards Kjersti johansen
5
Excellent tour with Mireille. She was very knowledgable and very personable and added greatly to ou experience.
5
Great service and overall satisfied with the guide. Fantastic tour around and in La Sagrada Familia. Erik, DK
5
I was very impressed that you were able to make special arrangements for my wife and I have our Tour on Wednesday after you said that Tuesday was the only day available - it shows great customer service on your part. Mireia was a delight, so knowledgeable and her enthusiasm was catching. She kept us interested for the whole 1 1/2 hours and is to be commended,
5
First of all, on behaf of all in our group, I will thank you and your guide Maria, for a really good performed tour i La Sagrada Familia. It was a very personal performance and with a twist of her own point of view. That was realy good! Can you bring our regard to her, and also ask her, if she can give us the URL for the www, where we can se the light in the tempel on differnt time of the day? Thank you.
5
We were a party of two senior couples. My wife and I had visited the Sagrada Familia several times between 1972-75 when I was stationed with the US Air Force in Zaragoza. At that time, only the four "pillars" had been constructed. We were absolutely shocked at all the construction that had occurred in the 38 years since we visited Barcelona. The Sagrada Familia is beautiful and unique in its construction. What really made the tour successful was the exceptional guide that we had. The guide was very knowledgeable, enthusiastic and fun to be with on the tour. She answered everyone's questions and appeared to really like her job. To be commended, we loved it! We are already planning to return to Barcelona when it is completed in 2026.
5
I just want to tell you that we got a topguide (I think her namn is Mirella or something like that). The visit of la Sagrada Familia was worth every penny. We are so pleased.
5
10/10!!! Absolutely amazing. We got back from our trip to Barcelona yesterday and we cant wait to go back and see the progression of this impressive church. We had some problems finding the meeting point so we arrived a couple of minutes later. A big THANKS to the amazing guide who waited for us. She was enthusiastic, small group, English spoken, just outstanding. We have done a lot of tours during our stay in Europe, if you are visiting Barcalona this one is definitely to be recommended! hasta pronto!!
5
Our favorite place of Barcelona! The amazingly detailed sculptures, the light coming in through the stained glass, just beatiful.We had an amazing guide who kept even my teenage daughters' attention for over 1,5hours and was able to answer all of our questions. Highly recommended, a must place to visit. Thank you!
3
Mireia was a very nice and professional guide. We have nothing but possitive and nice things to say about her! We have booked her the last monday in december the year 2026 at 9.30 outside the Church in the Gaudi-corner ;-) Yours sincerely Jonas Ivarsson
all other 83 reviews