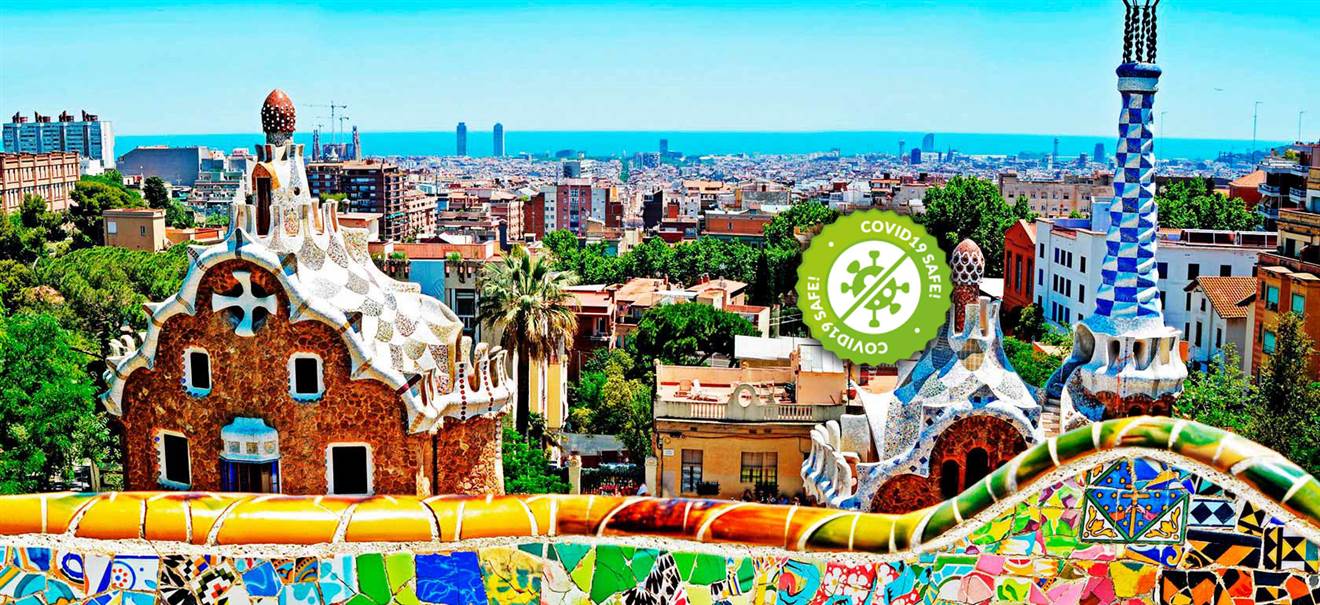 The Park Güell Guided Tour
To product

Covid Safe
Visit the colorful Masterpiece of Antoni Gaudi! 
Your visit to Barcelona would not be complete without a visit to the wonderful Park Güell! Designed by Antoní Gaudi in the early 1900's the Park is also known as an architectural wonder and as one of Gaudi's most colorful works. Parc Güell is located high above the Gracia district and was originally meant to be an area for Barcelona's rich society to live, but soon it became a public playground. Nowadays the Parc is one of the top attractions of Barcelona because of its Catalan modernism architecture, its fountains, colored mosaic benches and the famous dragon at the entrance of Parc Güell. 

COVID-19 SAFETY MEASURES
All guided tours will be done in the open air, no interior will be visited. 
Stay at home with symptoms. If you have (mild) symptoms such as shortness of breath, fever or a sore throat shortly before your planned guided tour stay at home. 
Your guide will make every effort to ensure that your guided tour is as safe and enjoyable as possible during the COVID-19 era. Reduced group size is guaranteed to ensure a safe guided tour. 
Always follow your guide's instructions. 
Wearing a face mask is required during each guided tour. 
Distance between group members is obligatory.
Highlights:
Different lookout points
Small group guided tour
All the special icons which makes the park so special
Includes:
Skip the line tickets
Experienced and official guide
Departures:
Daily (3 days a week), starting from the meeting point in front of the Gaudi Experiencia at Carrer de Larrard 41
.
Languages:
English

 
 Monday, Tuesday & Thursday




Duration:
+/- 1,5hour
Minimum participants:
2
How does it work?
After your booking, you will receive your voucher by email! The guide will also contact you to inform the exact time of the visit.
The entrance ticket for the Park Guell is included in the price. 
Buy your ticket
on Ticketbar
Get your ticket
via e-mail
Show your ticket
on your phone
11 reviews
Today's quote
The Park Guell is so beautiful and the view is amazing. Our tour guide was helpful, answers our questions and gave us many explanations for the Park. I can recommend this tour! Christoph
Reviews of The Park Güell Guided Tour
11 reviews
5
Brilliant tour, learnt a lot about Gaudi. My son is doing GSCE art and he found this tour really interesting! Thanks, Luke
5
Muy bien! It's lovely park and a great tour. My boyfreind and I loved it. - Alexandra
5
Great tour, lots and lots of stairs so the kids slept well that night! We all loved it. Thanks again Ticketbar! Emily
3
Antoni Gaudi is amazing architect and Park Guell is one of the most incredible masterpieces that he made! I am really glad we went for this tour! Julia & Sara
4
Park Guell is amazing place! If you dont go here you will regret! Highly recommended! Sara
5
Parc Guell is a must of Barcelona but without a guided tour it's like don't visit it. And this tour is super!