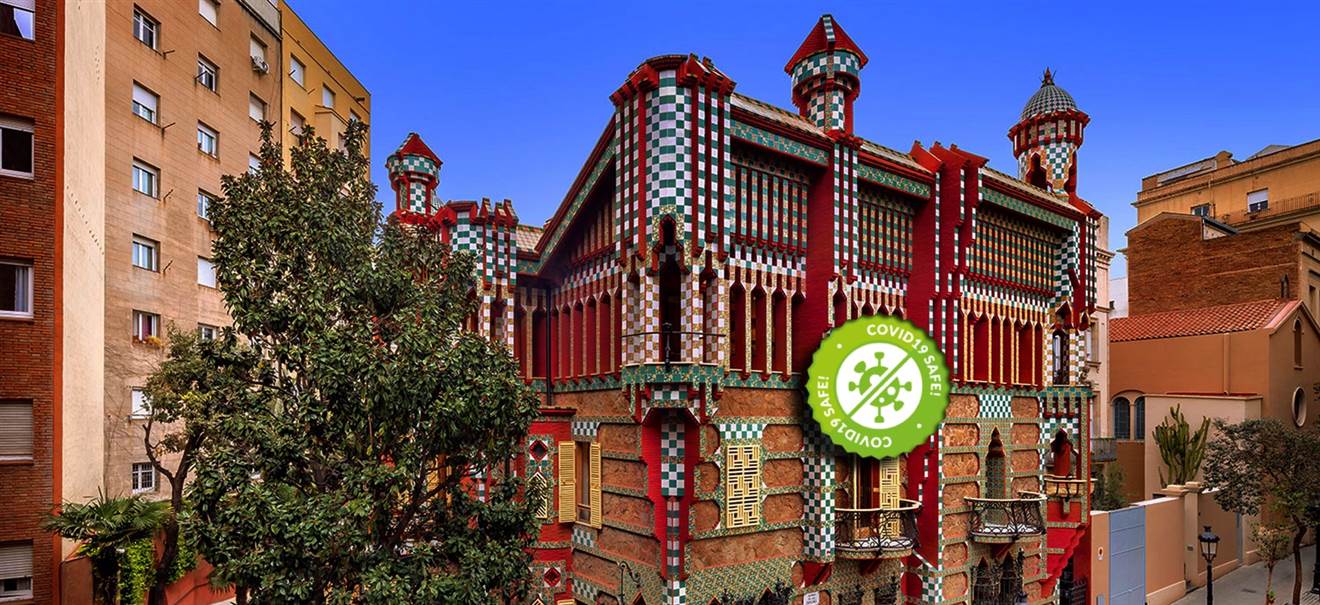 Casa Vicens - Skip the line!
To product

Corona safe
Casa Vicens, the first house of Gaudí, and the first important work of the architect, makes available to the visitor one of the key pieces of Antoni Gaudí's artistic career: the work that marked his point of Departure, an architectural gem which was declared a World Heritage Site by UNESCO in 2005.
Constructed between 1883 and 1885 by order of Mr. Manuel Vicens, Casa Vicens is one of the first masterpieces of Modernism, the anticipation of the later work of Gaudí and a vivid example of the airs of aesthetic renewal that were breathed at the end From the 19th century to all of Europe.
Originally, it was projected as a holiday home with a garden, in which geometric shapes and rich ornamentation, inspired by the surrounding vegetation, and this reference to natural elements is not only present on the outside of the house but also, by integrating different decorative arts - ironwork, painting, ceramics, carpentry, mural decoration, etc. - Gaudí succeeds in having nature penetrate the inside of the house, thereby creating continuity between the exterior and interior space.
If you look beyond the decoration you'll see the historicist Mudejar style as well as the forms which are Indian and Japanese in inspiration. Gaudí paid particular attention to the corners of the building, which were ridged in order to avoid the austere appearance of classical architecture. This orientalised exoticism was greeted with enthusiasm by the elite classes at the time in Barcelona. This is why it should come as no surprise that Gaudí's first building gained a much more enthusiastic reception than his later landmarks buildings, such as " La Pedrera".
Casa Vicens opens as a House Museum and proposes a rigorous visit that is also attractive for all audiences, which includes a permanent exhibition and a tour through the original rooms of Gaudí, carefully preserved and restored.
There  is a multilingual guide ( English, Spanish and French)   on each floor of Casa Vicens,  that will give you detailed information on the aspects of the room you are visiting. This is a wonderful experience to understand the work of Gaudi and Gaudi himself.
COVID-19 SAFETY MEASURES  
Due to the pandemic situation and to protect you and those around you, visits will only be allowed with the following sanitary norms and regulations: 
Wearing a face mask is required 
Reduced capacity to ensure a safe visit 
Distance between visitors is obligatory
Guests may be subject to a temperature check
Visit time may be limited
 WHY IS THIS PRODUCT CORONA SAFE? 
Hand sanitiser available 
New access conditions
Reinforcement of cleaning service 
Permanent ventilation
Disinfection points and disinfecting mats on access
Mandatory use of masks
Unique tour -one way direction


How does it work?
It is very simple. Just select a timeslot when you would like to visit to book your ticket. Once you have entered Casa Vicens, then you can stay as long as you want.
Opening hours:
From April 1, to October 14:
From Monday to Sunday, From 10:00am to 8:00pm. Last entrance one hour and 20' before closure.
From October 15 to March 31:
Monday: 10:00 to 15:00
Tuesday to Sunday, from 10:00 to 7:00 pm.
Please Note: (special timeslots)
03-11-2019 - From 10am to 3 pm (last entrance at 2 pm)
Address:
Carrer de les Carolines, 24, 08012
Barcelona