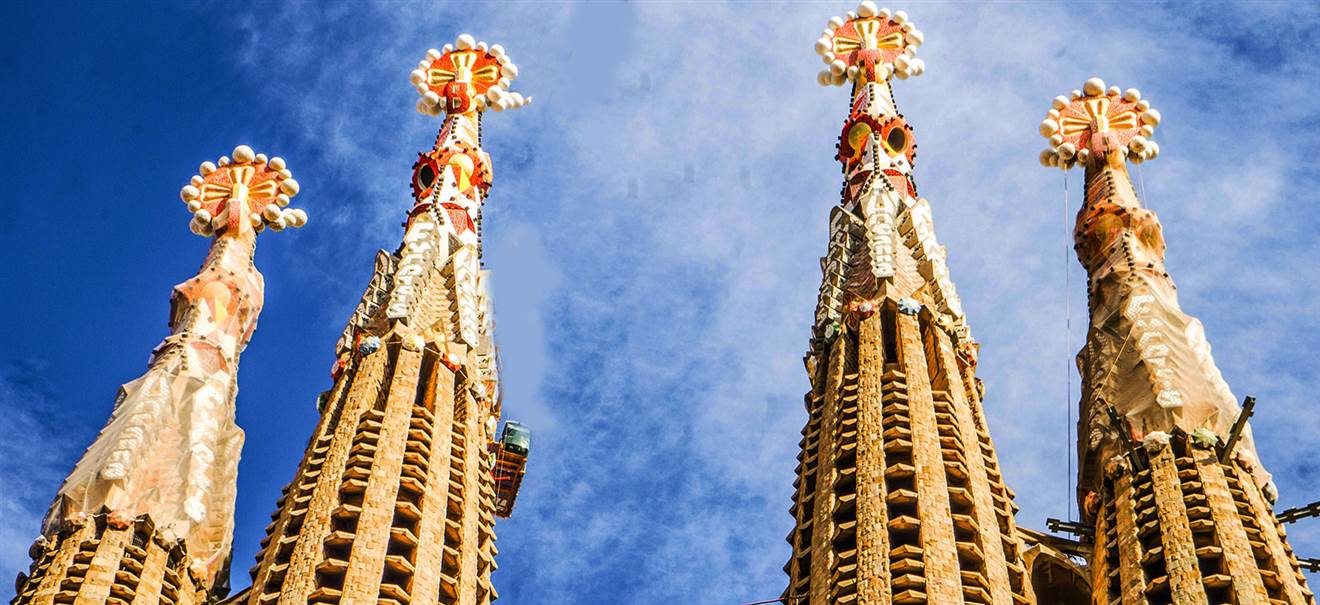 Sagrada Familia + Chinese audioguide + Towers LT
To product
FAST TRACK!
AUDIOGUIDE
Optional
100% Mobile!
This famous Roman Catholic church in the heart of the city was designed by revered Spanish architect Antoni Gaudí who is widely thought of as the most famous architect and resident of Barcelona. 
The construction of the church began in 1882, but it was only in 1883 when Gaudí became involved and combined the Gothic and Curvilinear Art Nouveau forms that the building took on its signature style. Nowadays the Sagrada Familia has been named a UNESCO World Heritage Site, and in November 2010 it was consecrated and proclaimed a minor basilica by the Pope.
Tourists and visitors to Barcelona flock to the Sagrada Familia daily to take in all its riches, but this results in long waiting lines which can last up to up to 2 hours. This can waste your precious time in this amazing city, and so we recommend buying your tickets online. When you arrive at Sagrada Familia, simply show the tickets on your mobile phone and enjoy a fast track access. This means that you can enjoy your time in the Sagrada Familia without any of the stress!
How does it work?
Sagrada Familia is also the home of a range of facades called the Nativity Facade, the Passion Facade, and the Glory Facade. Each facade has a series of towers as part of the design which are a must-visit attraction in addition to the main section of Sagrada Familia. 
To visit the towers simply select a timeslot for entrance. There is no time limit on how long you can stay inside the Sagrada Familia and your audio guide will be presented to you when you arrive. Along with your selected timeslot for entrance you will also get a timeslot for entrance for the towers. The visit to the towers depends on availability. The Passion Tower will be the first choice, but if this is not available, then the Nativity Tower will be automatically selected.
If you are visiting in a group of more than 9 people, please contact us at
[email protected]
Other important information:
Sagrada Familia is fully accessible for wheelchairs. Just select the category ´disabled´ when you purchase your tickets. Mobile tickets are accepted.
Location:
C/ Mallorca, 40108013 Barcelona.
Metro: Sagrada Familia (Blue Line, L5) and (Purple Line, L2). There is also a Hop On, Hop Off bus stop at the Sagrada Familia. 
Opening Hours:
November to February:  9 am to 6 pm
March and October: 9 am to 7 pm
Abril to September: 9 am to 8 pm
25 and 26 December and 1 and 6 of January: 9 am to 2 pm
Tickets are non-refundable.