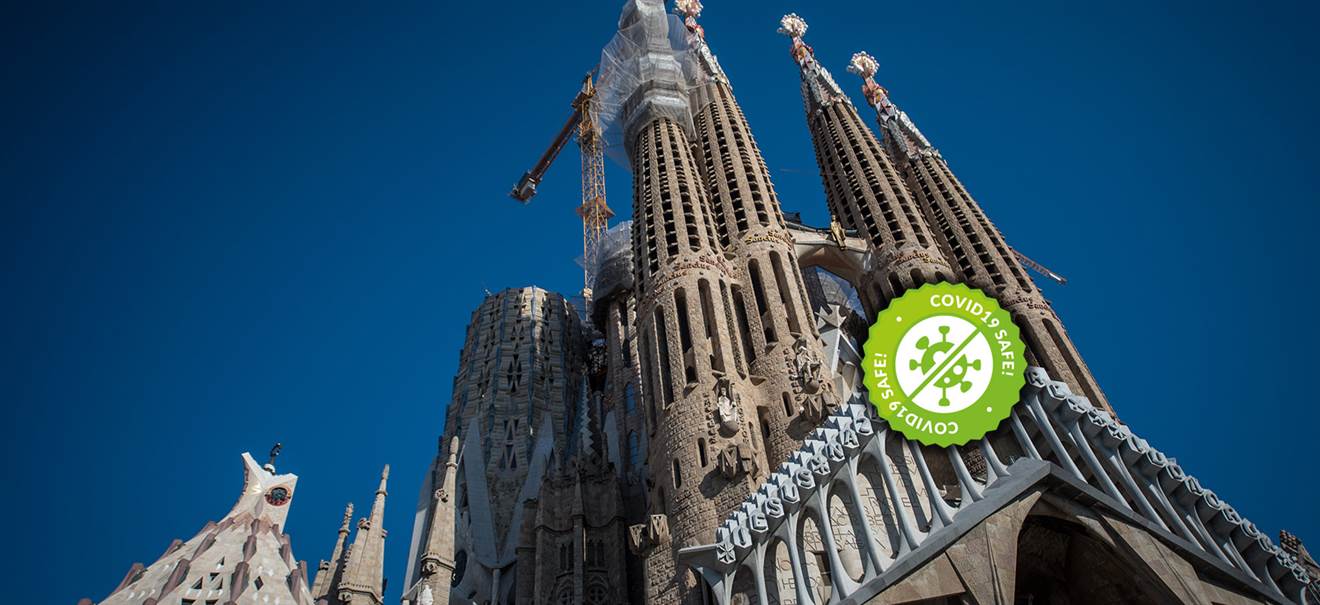 La Sagrada Familia 'The Facades Tour'
To product

Corona Safe
Let a licensed local guide take you around Sagrada Familia and discover the facades of Gaudi's masterpiece in a personal, friendly and informative way! Get to know Gaudí, the facades and all about the towers and the many details of the Sagrada Familia!
In a 90-minute guided tour you will be taken back to the 19th century. Antoni Gaudi, one of the most brilliant architects that the world has ever known, designed Barcelona's la Sagrada Familia, a still under construction masterpiece.
Walk together with your guide through Gaudi's fascinating life, his career and vision and get an in-depth view and detailed explanation of the impressive exterior of la Sagrada Familia which takes you around the facades of the Sagrada Familia. It tells you the story of Jesus Christ. There are so many details to see that you need a guide to discover them. Want to go inside after the tour? We will guide you through it. 
 
Why should you book this tour?
So many details to discover at the Sagrada Familia, you need a guide to show them to you.
Gaudi had a fascinating life: get to know the true story.
Enthusiastic, experienced, licensed and fun guide.
Get to know the Facades of the Sagrada Familia: the story of Jesus expressed on the Sagrada Familia.
Outside the Sagrada Familia is just as fascinating as going inside.
Want to go inside the Sagrada Familia? After your booking we offer you the possibility to book tickets to supplement your reservation for the La Sagrada Familia 'The Facades Tour'. 
Important information:
All guided tours are done by a local, experienced and professional licensed guide. 
Groups consists of maximum 10 people, keeping the experience more personal, friendly and fun for both group and guide. 
This guided tour includes an extensive exterior guided tour and does NOT include entrance tickets for la Sagrada Familia. But if you want, and when there is availability, we will guide you through the ticketing process. 
Make sure to arrive on time. Unfortunately it is not possible to join the guided tour later than your booked start time. You are also not entitled to any reimbursement of the cost of your reservation.
COVID-19 SAFETY MEASURES
All guided tours will be done in the open air, no interior will be visited. 
Stay at home with symptoms. If you have (mild) symptoms such as shortness of breath, fever or a sore throat shortly before your planned guided tour stay at home. 
Your guide will make every effort to ensure that your guided tour is as safe and enjoyable as possible during the COVID-19 era. Reduced group size is guaranteed to ensure a safe guided tour. 
Always follow your guide's instructions. 
Wearing a face mask is required during each guided tour. 
Distance between group members is obligatory.
Departure time:
Monday & Wednesday at 10h30 
Friday at 12h30
Departure location:
Guided tours start from the meeting point, located in front of the Kentucky Fried Chicken restaurant (KFC), which you will find on AVINGUDA DE GAUDI 2 at the intersection of CARRER DE MARINA and CARRER DE PROVENÇA.
Duration and language:
1 hour 30min , English.  
Does not include:
Tickets for entrance (or towers)